Childhood brain damage
Childhood brain damage acquired during childhood and adolescence has a great impact on the acquisition of skills and learning and on social adaptation, as well as having a great impact on the family.
Although advances in the field of medicine, intervention and new technologies over recent years have led to higher survival rates in children and young people with acquired brain damage, this represents an interruption in their natural development. This marks out differences in the specific nature, complexity and duration of the intervention needed in young patients with acquired brain damage. Neurorehabilitation is a complex, highly specialised clinical process aimed at restoring, minimising and/or compensating functional alterations in people with disabilities caused by an injury to the nervous system. Comprehensive neurorehabilitation treatment plays a key role in achieving the best developmental outcome for boys and girls who have suffered a stroke or other acquired brain damage. It is estimated that 90% of cases of childhood brain damage are due to external causes (mainly traumatic brain injuries) and the remaining 10% to cerebrovascular accidents, infections, tumours, epilepsy or metabolic alterations, among others.
At Guttmann Barcelona, childhood brain damage is treated in a comprehensive and holistic way which addresses all areas that are affected and always seeking the highest possible level of recovery: 
Articles relacionats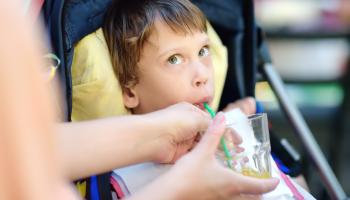 Monday, 21 December, 2020
DYSPHAGIA. SWALLOWING DIFFICULTIES
Dysphagia can have serious consequences. For this reason, it is important to be aware of the signs that alert us about the possibility of...