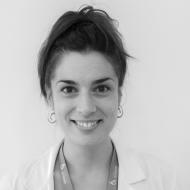 Macarena Gil
General Health Psychologist since 2014. Degree in Psychology with a mention in Clinical Psychology from the Universidad Autónoma de Madrid (UAM) and a Master's degree in Neuropsychological Rehabilitation and Cognitive Stimulation from the Universitat Autònoma de Barcelona (UAB).

She holds a PhD in Psychology from the UAB with a thesis focused on the study of neuropsychological rehabilitation in the chronic phase of stroke patients. 
She is accredited as an expert in clinical neuropsychology by the Col·legi Oficial de Psicòlegs de Catalunya and by the Consejo General de Colegios Oficiales de Psicólogos de España. 
She teaches on the Master's degree at the Institut Guttmann - UAB and has published several articles of scientific interest in the field of cognitive stimulation and cognitive reserve in patients with acquired brain injury.