Child physiotherapy
During the first sessions of child physiotherapy, we examine the child and collect all the data needed to set up a personalised programme, including an interview with the family to find out relevant aspects in order to establish the most appropriate plan for the child's recovery:
Medical history, prior rehabilitation, routines, daily activities (autonomy, adaptations, etc), how they get around, orthotic and technical aids, and which goals have been set.
The physiotherapist carries out the initial physical examination and administers the corresponding scales to find out as much about the child's condition as possible in order to devise the most appropriate treatment programme. For this, play is used as a tool to obtain information on the following aspects:
Muscle and joint balance

Overall coordination and mobility

Standing and gait
To carry out a personalised child physiotherapy treatment, goals are established that are adapted to each case and to the developmental age of each child. According to the needs detected, a rehabilitation programme is followed that may contain different treatment options (given below).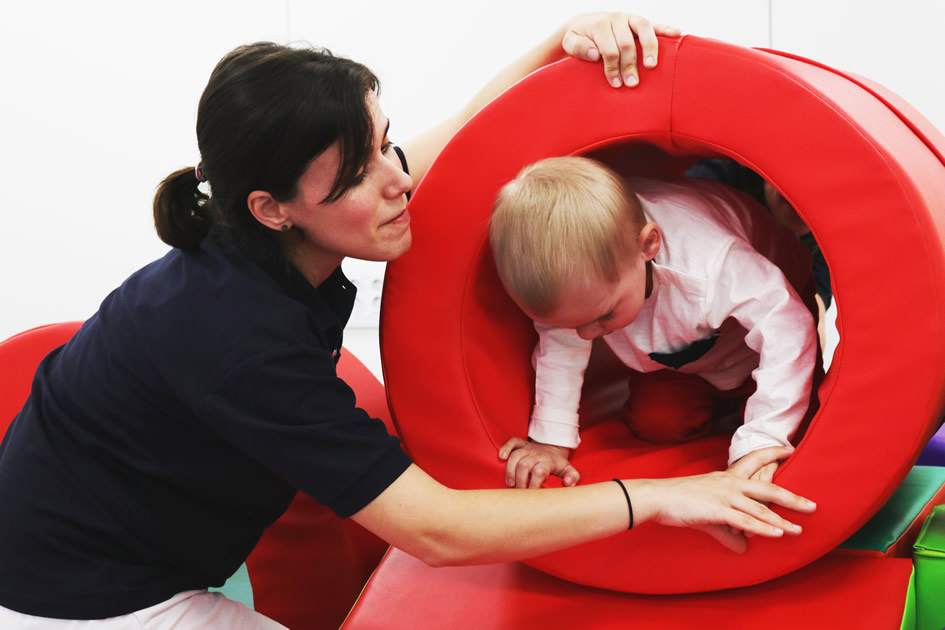 PSYCHOMOTOR STIMULATION
Psychomotor stimulation with child physiotherapy is an intervention within a space adapted for psychomotor expression in which the child can achieve the following benefits through multisensory and motor stimulation:
Greater postural control and improved laterality, body schema and verticality

Improved motor control, coordination and overall mobility

Acquisition of autonomy

Improved communication
HYDROTHERAPY
Halliwick®, functional pattern training

Balance and gait training.

Regulation of muscle tone and control of spasticity.
STANDING AND GAIT TRAINING
Progressive verticalization and/or standing.

Gait re-education using a robotic system with partial weight suspension: Lokomat®, andago®. * (Only if deemed appropriate)

Assessment of technical and orthotic aids.
At Guttmann Barcelona we offer support and advice to the family, which is vital for the patient's recovery. Therefore, during the rehabilitation period with child physiotherapy, parents and guardians are equipped with different aspects that can be applied during the child's daily life. In addition, at the end of the rehabilitation period, we deliver a detailed report containing the initial assessment data, follow-up and post-treatment conclusions, listing all interventions performed during the rehabilitation programme and attaching a series of recommendations relating to orthotic or technical aids, as well as details of the guidelines provided during the sessions.