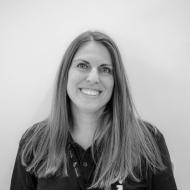 Eva Morales
Graduate in Physiotherapy and Master in Neurological Stimulation, she has been a member of the Functional Rehabilitation team at the Institut Guttmann since 1999.
Trained in the concepts of Basal Stimulation, Affolter, Kinaesthetics, Cognitive Therapeutic Exercise, Halliwick, GAH, etc., and very interested in the therapeutic approach to Covid-19 and Covid Persistent Syndrome.
Passionate about her work, her main objective is to ensure the well-being of the people who come to the centre for treatment and their families.