Spinal cord injury
A spinal cord injury occurs when the nervous connection between the brain and the rest of the body is interrupted or altered as the result of trauma or an accident, a disease (tumour, infection, vascular, etc.) or as a result of a congenital cause (spina bifida). Spinal cord injuries can be classified depending on the extent to which the patient is affected.
Complete spinal cord injury

Incomplete spinal cord injury
Spinal cord injury has different consequences depending on the level of the spine in which it occurs:
A cervical injury can cause TETRAPLEGIA, which is the loss or decrease in sensation and/or voluntary mobility of the upper and lower extremities and of the entire trunk.

A thoracic and lumbar injury results in PARAPLEGIA, which is manifested by a lack of sensation and/or total or partial paralysis of the lower extremities, and of part of the sublesional trunk.

An injury to the medullary cone and cauda equina causes impaired sensation and reduced voluntary mobility, although the ability to walk is usually preserved. The most notable sequelae are the loss of control over sphincters and impaired sexual function.
Other consequences derive from these injuries, which appear depending on the degree and level of injury, such as:
Lack of sphincter control

Neuropathic pain

Spasticity

Sexual problems

Skin problems, such as pressure ulcers

Impaired respiratory function

Osteoporosis

Disorders of body temperature regulation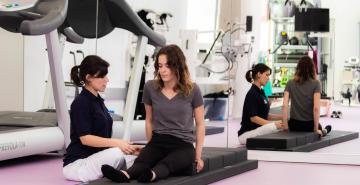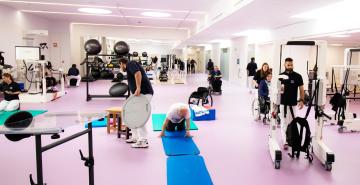 Phisiotherapy and gait rehabilitation. Group sesions.
Guttmann Barcelona offers a treatment programme of physiotherapy and gait rehabilitation in a group, with sessions based on shared rehabilitation goals, with activities being planned around these goals in both the rehabilitation room and the swimming pool.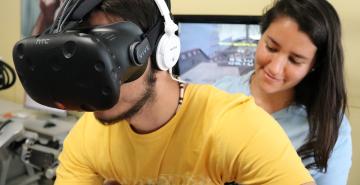 Videos
Neurorehabilitació assistida de la marxa. Lokomat
Gait neurorehabilitation. The latest technologies
Experiences
Training and functionality improvement