Trastorns per ús de substàncies en l'adolescència
El trastorn per ús de substàncies en l'adolescència ocasiona greus conseqüències en el jove i al seu entorn. Durant l'adolescència, les persones són altament vulnerables a realitzar conductes de risc relacionades amb el consum de tabac, alcohol, marihuana i altres drogues. Els primers contactes amb les drogues legals, tabac i alcohol, es duen a terme habitualment durant la primera etapa de l'adolescència (12/14 anys). En alguns casos, els joves s'iniciaran, més endavant, en el consum de substàncies il·legals.
Els adolescents sovint tenen la sensació que són immunes al perill. Prioritzen la gratificació immediata encara que en el futur pugui haver conseqüències negatives. Tenen una gran curiositat per experimentar noves vivències estimulants i arriscades. Aquests trets propis de l'edat poden explicar la vulnerabilitat dels adolescents per iniciar-se en el consum de les drogues.
Les drogues més consumides pels joves d'entre 14-18 anys són les legals (alcohol i tabac), seguides del cànnabis i els hipnosedants. S'observen diferències en el consum de substàncies entre homes i dones. L'edat mitjana d'inici de consum se situa entre els 13-16 anys. Des que un adolescent es posa per primera vegada en contacte amb les diferents substàncies fins que es desenvolupa un problema d'addicció hi ha una sèrie de canvis en relació a les motivacions per consumir i en la interiorització d'aquests consums en els hàbits de vida.
De vegades el consum de la substància és experimental, es consumeix en un moment puntual per curiositat, pressió de el grup d'iguals o causa de l'atracció per allò prohibit i pot ser que no es repeteixi.

Quan es repeteix el consum però no hi ha una periodicitat fixa i es donen llargues temporades sense consum parlem d'un consum ocasional.

Un consum habitual suposa fer ús de la substància amb freqüència tant en grup com individualment, sent el consumidor coneixedor dels efectes que provoca la droga quan es consumeix a mig termini. En el moment que la persona necessita la substància i la seva vida gira al voltant del consum i de les seves conseqüències parlem d'una drogodependència. En aquest moment es consumeix més quantitat i durant un període de temps més llarg. L'adolescent passa gran part de el temps en activitats relacionades amb l'obtenció de la substància i el seu consum. Apareixen símptomes d'abstinència quan la persona no està sota els efectes de les drogues impedint el desenvolupament de les seves tasques o obligacions.
Per prevenir l'aparició del consum de drogues en l'adolescència cal promoure estratègies que fomentin el desenvolupament de factors de protecció, com la capacitat crítica, les habilitats socials i de comunicació o la resistència a la pressió de el grup d'iguals.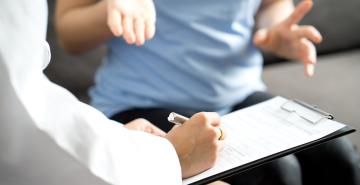 Psychological treatment
The Psychological treatment with Cognitive behavioural therapy brings together two types of therapeutic treatments, because although behavioural therapies are successful in the treatment of some pathologies, other aspects involved in the way in which people respond to different situations have to be taken into account.