Adolescent substance use disorder
Adolescent substance use disorder causes serious consequences for young people and their families and friends. During adolescence, teenagers are highly vulnerable to risky behaviours related to the consumption of tobacco, alcohol, marijuana and other drugs. Their first contact with legal drugs – tobacco and alcohol – is usually seen during the early stage of adolescence (12-14 years). In some cases, young people will later start consuming illegal substances.
Adolescents often have the feeling that they are immune to danger. They prioritise immediate gratification although there may be negative consequences in the future. They are curious to experience new stimulating and risky experiences. These age-specific traits may explain why teenagers are so vulnerable to start consuming drugs.
The drugs that are most consumed by young people between the ages of 14 and 18 are legal ones (alcohol and tobacco), followed by cannabis and tranquilizers. Differences in substance use can be seen between men and women. The mean age of onset of consumption is between 13-16 years old. From the time an adolescent first comes into contact with different substances until an addiction problem develops, a number of changes take place in relation to the motivations behind their consumption and the internalisation of this consumption into their lives.
Adolescents sometimes experiment with consuming different substances; this use might be a one-off due to curiosity or peer pressure or because they find it attractive that they are forbidden. Consumption might not be repeated.

When the consumption is repeated but there are no fixed timings and they have long periods without using the substance, this is occasional consumption.

Regular consumption means using the substance frequently both in a group and individually, where the person consuming it is aware of the effects caused by the drug when it is consumed in the medium term. At the moment that the person needs the substance and their life revolves around consumption and its consequences, we define this as drug dependence. Larger amounts are consumed at this point and for a longer period of time. The adolescent spends much of their time on activities related to obtaining and consuming the substance. Withdrawal symptoms appear when the person is not under the influence of drugs, preventing them from carrying out tasks or obligations.
To prevent the onset of drug use in adolescence, strategies that promote the development of protective factors, such as critical capacity, social and communication skills, and resistance to peer pressure have to be fostered.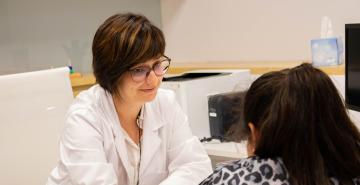 Cognitive behavioural therapy
Cognitive behavioural therapy brings together two types of therapeutic treatments, because although behavioural therapies are successful in the treatment of some pathologies, other aspects involved in the way in which people respond to different situations have to be taken into account.