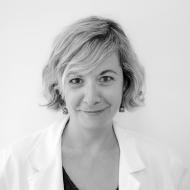 Eulàlia Solis
Graduate in Psychology from the University of Barcelona. She has a Master's degree in Clinical Neuropsychology and Behavioural Neurology from the Universitat Autònoma de Barcelona (UAB) and a postgraduate diploma in training for forensic psychological expertise from the Universitat de Lleida.
She is accredited as a General Health Psychologist and as an expert in clinical neuropsychology by the Consejo General de Colegios Oficiales de Psicólogos de España.
She has several specific accreditations for clinical practice such as: accreditation for the assessment of autism spectrum disorder with the ADOS, introductory level of the ESDM (Denver Method) or as a parent trainer in Positive Discipline by the ADPE.
She has dedicated her professional career to the care of patients with adult and infantile ASD, and neurodevelopmental disorders.
Her clinical practice has always been accompanied by her teaching activity. She is currently director of the Postgraduate Diploma in Neuropsychology and Neurology of Child Behaviour at the Universitat Autònoma de Barcelona and is a lecturer in several masters and postgraduate courses including the Master of Continuing Education in Rehabilitation Neuropsychology, the Master of Neuropsychology and Neurology of Behaviour, all of them at the Universitat Autònoma de Barcelona (UAB).