Comprehensive Memory Stimulation Program
The Comprehensive Memory Stimulation Program aims to prevent and / or slow down the cognitive and physical deterioration of people suffering from neurodegenerative diseases.
The program offers tools and strategies to be able to continue performing, for as long as possible, the activities of daily living in the most autonomous and functional way possible and for a better quality of life.
HOW IS THE COMPREHENSIVE MEMORY STIMULATION PROGRAM DEVELOPED?
With the acquisition of strategies to optimize cognitive functioning.

Encouraging socialization and teamwork. Group work activates divided attention, processing speed, working memory, verbal and non-verbal communication skills, etc.

Promoting healthy living habits: physical activity, nutrition, sleep and rest , toxic habits, etc.
WHO IS IT FOR?
To people with a diagnosis of mild cognitive impairment, Alzheimer's dementia, Lewy body disease, vascular dementia, fronto-temporal dementia or people with other primary dementias or associated with other degenerative neurological diseases (Multiple Sclerosis, Parkinson's Disease, etc.).
WHAT DOES THE PROGRAM CONSIST OF?
Memory workshop: Cognitive stimulation workshops to activate and maintain cognitive functioning (orientation, attention, memory, executive function, perception, language), psycho-education on the functioning of our brain, work with techniques and resources to improve cognitive performance, working on deficit awareness, managing emotions (cognitive restructuring, relaxation techniques, etc.)
Occupational therapy workshop: Motor work to interact with objects and tasks, cognitive stimulation (attention, memory, planning) in the performing functional activities, psychomotor skills, stimulation and functional training in the activities of daily living (money management, etc.), working on healthy living habits and routines.
Music therapy workshop: Music is used to address communicative aspects, cognitive, socio-emotional and physical mobility, with different techniques based on singing, playing instruments, composition, song analysis, the movement with music and musical tasks. Stimulate psychomotor skills, stimulate communication and language, activate cognitive functioning, promote a sense of belonging and socialization, influence and improve mood, all through musical tasks.
Physical activity workshop: Enhancing physical well-being through exercises to avoid bad postures and dystonias, flexibility exercises for the spine and chest, strengthening muscles, mobilizing hands and joints, etc. Work aimed at preventing falls, reducing pain and improving mobility.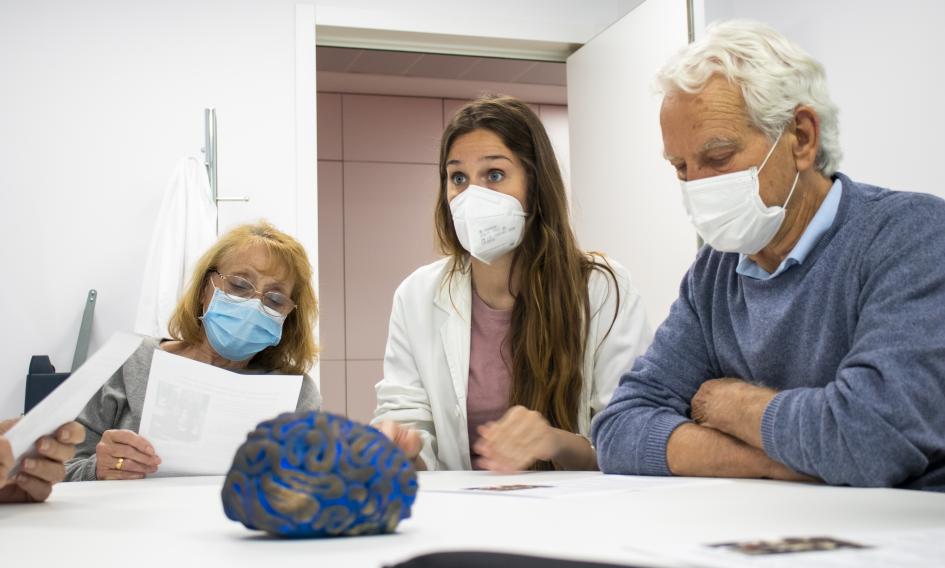 MULTIDISCIPLINARY PROFESSIONAL TEAM
The program has a team of professionals consisting of neuropsychologists, occupational therapists, music therapists and physiotherapists. A team of people with experience in the field of neuroscience and neurorehabilitation, who work in a multidisciplinary and comprehensive way, offering the patient and the family a treatment adapted to the needs of each person.