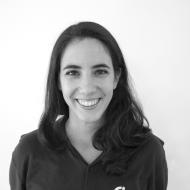 Selma Delgado
Physiotherapist since 2013, graduated from Gimbernat and Tomàs Cerdà University Schools. Specialised in Neurorehabilitation with a master's degree in Neurorehabilitation from the Institut Guttmann and the UAB.
Experience for 10 years in the field of neurorehabilitation and chronic pain.
She joined the Institut Guttmann research team in 2018 as a predoctoral fellow in the framework of the Barcelona Brain Health Initiative (BBHI). From 2022, she will join the rehabilitation area of Guttmann Barcelona, where she combines different physiotherapy techniques with neuromodulation techniques (non-invasive brain stimulation) to treat chronic pain or improve hand and gait functionality, among others.
She is finishing her PhD in medicine at the UAB, focusing on characterising the emotional, cognitive and neurobiological aspects of chronic pain.