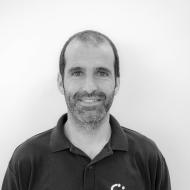 Manel Ochoa
Graduated in Physiotherapy and Official University Master's Degree in Neurorehabilitation from the Universitat Autònoma de Barcelona. He is a member of the Fundació Institut Guttmann since 1999.
He has a Master's Degree in Executive Education in People Leadership and Team Management from ESADE. and a Postgraduate Diploma in Acupuncture Applied to Joint and Myofascial Pain from the Universitat Internacional de Catalunya. He coordinates the online course Introduction to Neurorehabilitation at the Institut Guttmann - UAB.
Lines of experience in hand surgery, functional assessment in neurorehabilitation in adults and sSpecialist in the application of Non-Invasive Brain Stimulation (NIBS) in neurorehabilitation.
"Sport is one of my passions and I like to pass it on to the people around me by encouraging physical activity as a healthy habit within the rehabilitation process".