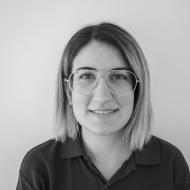 Laura Escribano
Graduate in Speech Therapy (Universitat Autònoma de Barcelona, 2014) with a specialisation in the clinical and educational field. Postgraduate degree in neurology and master's degree in clinical neuropsychology. Speech therapist recognised by the College of Speech Therapists of Catalonia.
She began her professional practice working as a speech therapist for children and young people, especially in learning disorders, and later in the field of neurorehabilitation, mainly in brain damage in the adult population.
Since 2018 she is member of the collaborating teaching staff of the Speech Therapy Degree and the Master's Degree in learning difficulties and language disorders, both at the Universitat Oberta de Catalunya (UOC).