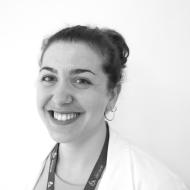 Ester Parra
Speech therapist specialising in speech, ICT applied to communication and swallowing and myofunctional therapy for children.
Speech therapist since 2018. Graduate in Speech Therapy from the Universitat Ramon Llull- Blanquerna and graduate in Applied Languages from the Universitat Pompeu Fabra. Master's degree in information Processing and Multilingual Communication (TICOM) from the Universitat Autònoma de Barcelona. She is currently a PhD student in the Clinical and Health Psychology programme, specialising in Psychobiology, at the University of Barcelona.
She is part of the research group GRECIL (Research and Cognition of Language Group) conducting studies on the Developmental Language Disorder (TDL). Also she has been doing continuous training since 2019 in myofunctional therapy and dysphagia in children (newborn, NICU, early care and infant population).
She is currently training for accreditation as a speech therapist lactation consultant and is a lecturer on the Speech Therapy Degree at the Universitat Oberta de Catalunya.