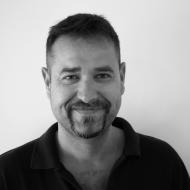 Albert Calsada
Graduate in Physiotherapy from the Universitat Internacional de Catalunya (UIC) and Official Master's Degree in Osteopathy from the Universitat Autònoma de Barcelona (UAB).
He has been a member of the team of professionals at the Institut Guttmann since 2007.
Trained in different treatment methods in neurorehabilitation and specialised in dry needling and comprehensive treatment of neuropathic pain.