Schizophrenia
Schizophrenia is a psychiatric disorder that includes a broad group of mental disorders which are often chronic and have a severe effect on the patient. They cause changes in people's psychological functioning, especially in awareness of reality, and cause neuropsychological disorganisation with varying levels of severity. In schizophrenia sufferers, these disorders cause difficulties in maintaining normal activities in everyday life and problems in social relationships.
The most common symptoms are:
Delusions

Erroneous ideas that the patient is convinced of

Confused thoughts

Auditory and visual hallucinations. For example, hearing voices or seeing objects and faces that are not there

Disorganised or anomalous motor behaviour

Disorganised discourse, very reduced emotional expression

Negative symptoms like aboulia, which is manifested with apathy, difficulties or lack of interest in social relationships

Impaired emotional expressiveness and affect

Symptoms of anxiety

Isolation
It is essential that schizophrenia is diagnosed as early as possible, based on a correct observation of symptoms and an exploration of the patient's experiences and personal background. Contributions from the family, friends or people from the patient's working environment are also necessary, as the latter might not be in a position to recognise or explain their difficulties. Schizophrenia and psychotic disorders should be treated using a multifaceted approach, both with treatment with antipsychotic drugs and with therapy based on the cognitive-behavioural model. With these patients, providing good psycho-education is especially important so that families can detect symptoms of the worsening of the disease or periods of crisis, as well as the need for resources to be able to provide the help the patient needs.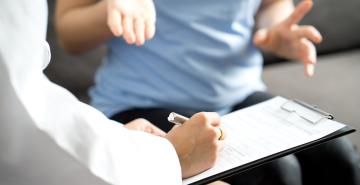 Psychological treatment
The Psychological treatment with Cognitive behavioural therapy brings together two types of therapeutic treatments, because although behavioural therapies are successful in the treatment of some pathologies, other aspects involved in the way in which people respond to different situations have to be taken into account.