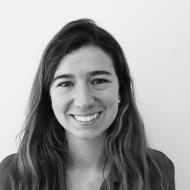 María Redondo
Degree in physiotherapy from Universitat Blanquerna and Master in Neurorehabilitation from the Institut Guttmann and the UAB.
She has been part of the Institut Guttmann Foundation since 2017 where she works as a physiotherapist with people with neurological disabilities, applying non-invasive stimulation treatments. She has also been part of the research team in the framework of the brain health project Barcelona Brain Health Initiative (BBHI).
Currently, she is finishing her PhD in medicine at the UAB focused on characterising new biological markers of brain health through the application of transcranial magnetic stimulation, with some articles published on the subject.